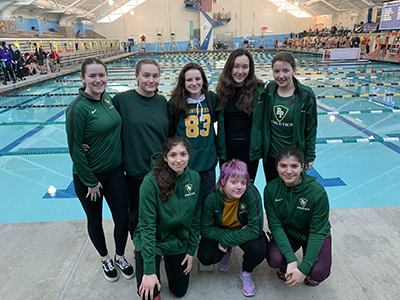 STATE Results (html)
Congrats Girls! – Putnam Girls finished with a final place of 9th in 400 Free Relay and 11th in 200 Free Relay. Megan Anspach finished with an 11th in her 100 Free. Awesome!
Meet Info (pdf)
Bus Departs 6:30a, Returns ~noon
Girls 100 Free – 9:57am
Girls 200 Free Relay – 10:36am
Girls 400 Free Relay – 11:01am
Location:
Tualatin Hills Aquatic Center – 15707 SW Walker Road, Beaverton, OR 97006
Spectators: $8 Adults, $5 Students
FRI – WU 7:30a-8:45a, Meet 9a-11:15a
SAT – WU 7a-8a, Meet 8:15a-11:15a
Incredible performances at Districts 2020 – so many amazing swims with amazing PRs across the board…AND 3 school records broken in one day! But not only that…
Congratulations to the following Rex Putnam swimmers on their qualifying to the State Championships!!!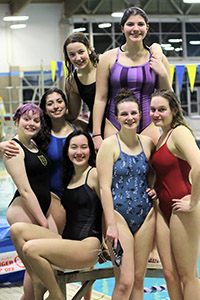 Megan Anspach – 100 Free – going in at 12th with a time of 58.99 – a new Rex Putnam School Record
Girls 200 Free Relay – going in at 9th with a time of 1:49.97 – a new Rex Putnam School Record
Girls 400 Free Relay – going in at 11th with a time of 4:06.20 – a new Rex Putnam School Record
Relay Team: Riley Bader, Janiece Cappoen, Clara Fost and Megan Anspach.
The four Official Alternates for the Girls Relay will be: Athena Southworth, Saphya Lones, Rose Cowing and Yasmine Lones
Rex Putnam has had various incredible individuals that have been to State in the past.. However, these Relays will be the FIRST Relays that Rex Putnam HS has ever sent to STATE since it's inception and fielding a swim team, in it's 50 year history! This is inclusive of Boys and Girls. So, in itself is making of some Putnam History!
Congratulations girls!!!